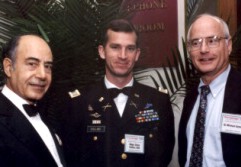 Entire site © 2010, International Strategic Studies Association.
Who will attend Strategy2011?
Strategy2011 — as with all previous Strategy conferences since 1982 — is open only to senior professionals involved in national security and national policy matters. All discussions are off-the-record, unless speakers specifically allow public quotation, to enable the best possible exchange of information and views in a private and frank situation.
The program is suited to the professional needs of:
Ministerial or senior officials in national planning, infrastructure, defense, foreign policy, intelligence, strategic policy, emergency response, or food or energy security;

Senior Service officers including Heads of Service;

Intelligence and counter-terror officials;

Defense industrial planning, marketing and management executives;

National-level medical officials;

Political risk analysts;

Diplomats and other foreign service officers;

Defense attachés;

Education officials, particularly in the national security, science & technology, and international relations arenas, but also those working in the realm of regional studies;

Emergency response officials (inc. police, medical and disaster relief);

Homeland Security and Border Protection officials;

Financial and investment planners.