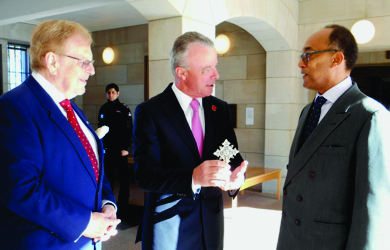 His Imperial Highness Prince Ermias Sahle-Selassie, President of the Crown Council of Ethiopia (right), presents an antique Ethiopian processional cross to the Hon. Dr Brendan Nelson, Director of the Australian War Memorial in Canberra, on June 22, 2017. Dr Nelson conducted Prince Ermias on a 90-minute tour of the Memorial, which Prince Ermias described as "the soul of Australia". The Prince laid a wreath at the tomb of the Unknown Soldier — an almost identical wreath to that laid by his late Grandfather, His Imperial Majesty Emperor Haile Selassie I in 1968 — and placed a poppy alongside an Australian soldier recently killed in Afghanistan. ISSA Pres. Gregory Copley, an Australian, looks on.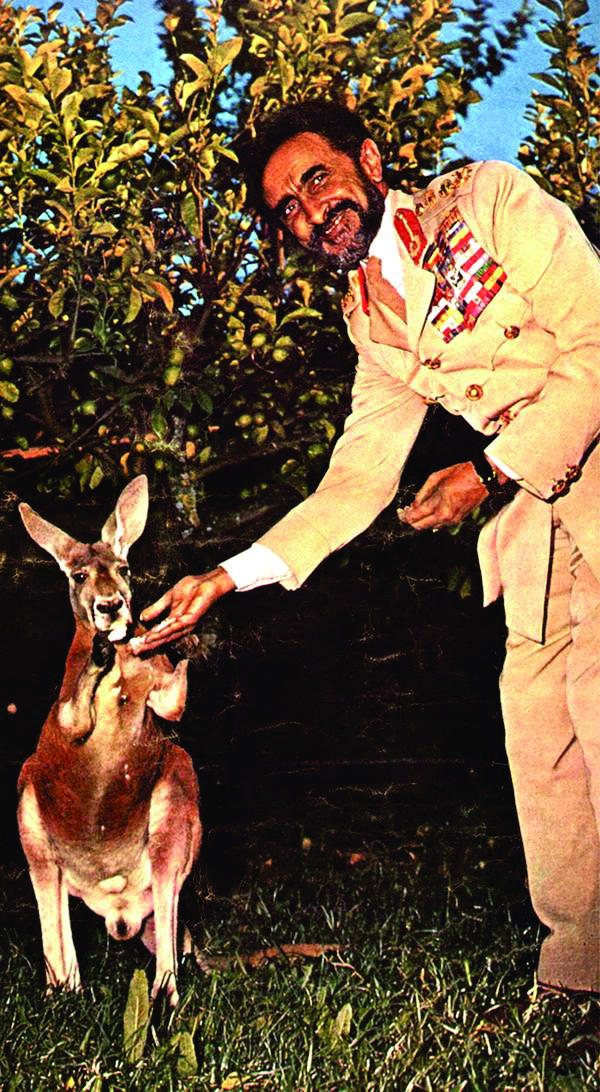 His Imperial Majesty Emperor Haile Selassie I, at the Royal Melbourne Zoo, greets a true Australian during the State Visit of 1968. Almost a half-century later, his Grandson, Crown Council President Prince Ermias, repeats the performance at the Perth Zoo on June 30, 2017 (below; photo by Jelica Bougias, RML).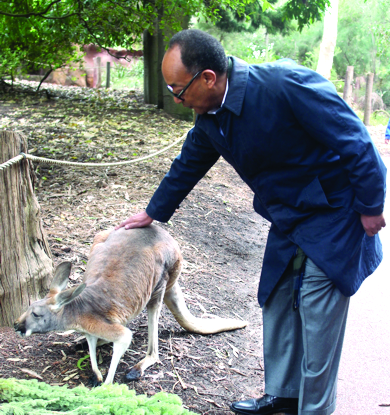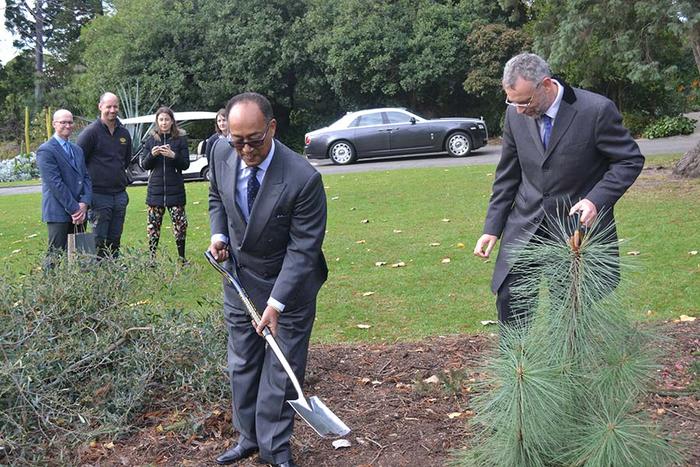 HIH Prince Ermias plants a tree at the Royal Botanic Garden, Melbourne, initially using a spade employed by his Grandfather, Emperor Haile Selassie I, in 1968 [see photograph, right], then switching to use a spade engraved with his own name.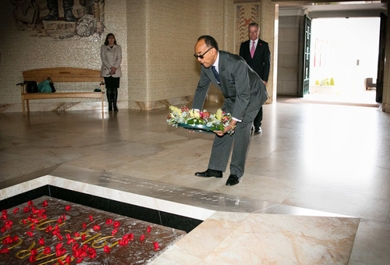 HIH Prince Ermias lays a wreath at the Tomb of the Unknown Australian Soldier at the Australian War Memorial, Canberra, on June 22, 2017.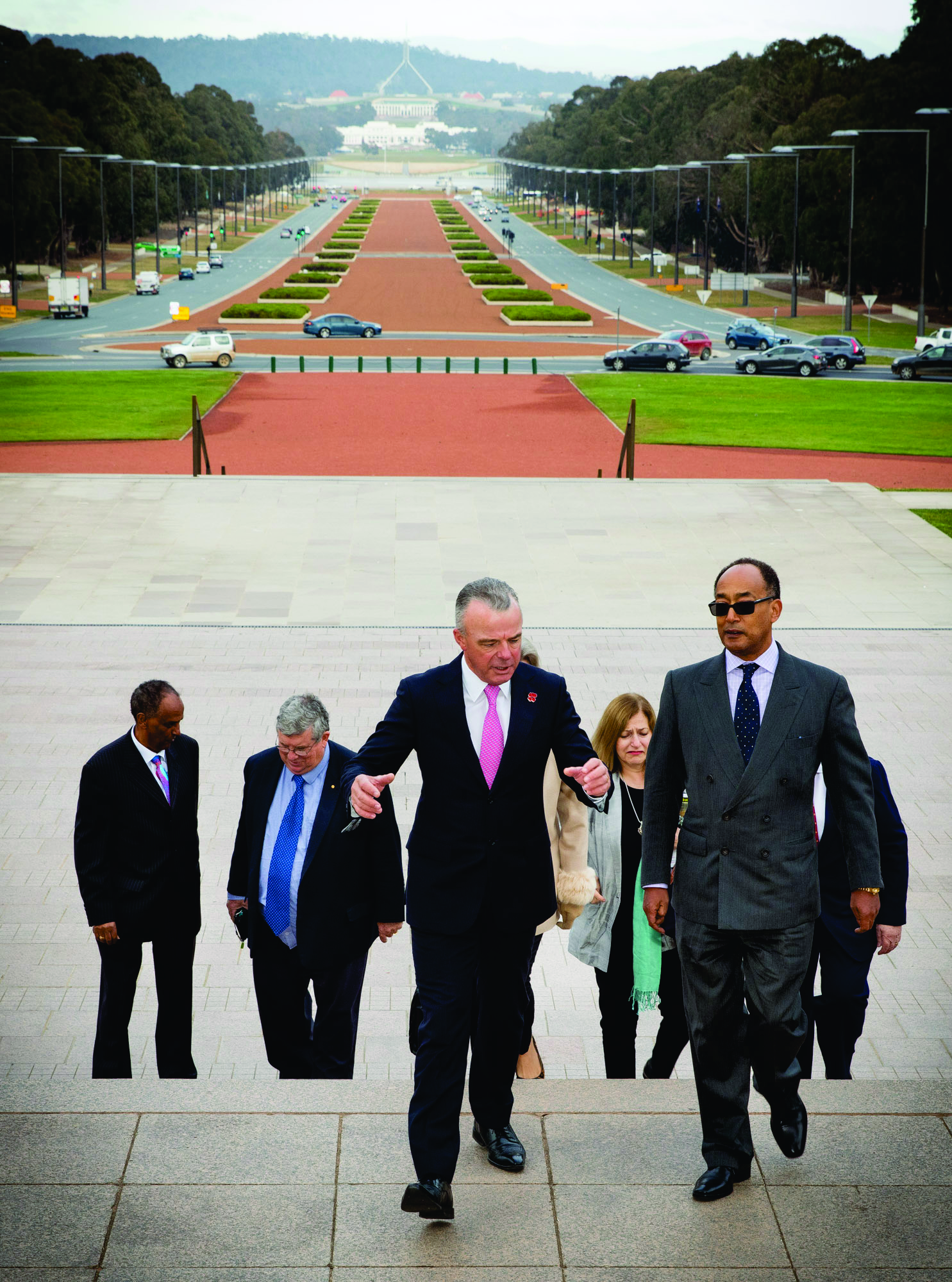 HIH Prince Ermias (right) is accompanied up the steps into the Australian War Memorial on June 22, 2017, by Museum Director and former Defence Minister the Hon. Dr Brendan Nelson. Behind Dr Nelson is HE the Hon. Shane Stone, AC, GCHT, GCEL, QC, former President of the Australian Liberal Party, and a key force behind the Commemorative Visit.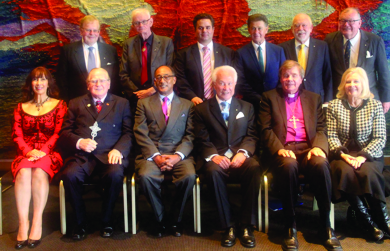 A selection of the guests at the luncheon in the New South Wales Parliament — the oldest Parliament in Australia — hosted by the Deputy President of the Legislative Council, Rev. the Hon. Fred Nile, MLC (shown first row, second from left, next to Prince Ermias). Rev. Nile is shown holding a traditional Ethiopian processional cross, presented to him by Prince Ermias. Among the other guests were Prof. David Flint, AM, Founder of Australians for Constitutional Monarchy (front row, third from right); Archbishop The Right Reverend John Hepworth (front row, second from right); Australia's first astronaut and Crown Council scientific advisor Dr Paul Scully-Power, AM, GOSE, RML (back row, second from right); and Bryan Sterten-Gill, GOSE, head of the International Monarchist League in Victoria.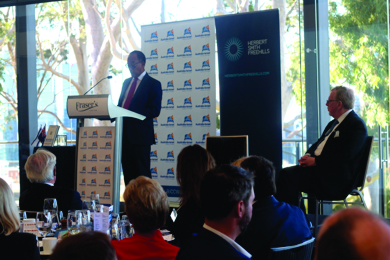 Prince Ermias addresses the Australia-Israel Chamber of Commerce (AICC) on June 29, 2017, at the Western Australian State Reception Centre in King's Park, overlooking Perth and the Swan River. The AICC gathering is one of the largest high-level business development forums in Australia. Prince Ermias was the second royal figure to appear at the Centre: the first was HM Queen Elizabeth II, when she officiated over the Commonwealth Heads of Government Meeting there several years earlier.